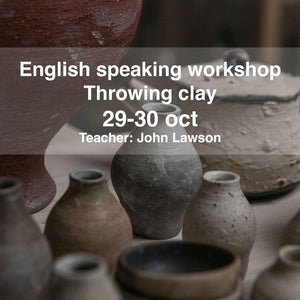 Teacher: John Lawson (guest teacher)
Language: English
Time: Saturday and Sunday  29-30th of Oct at 10.00-15.00 + glazing class  20th of Nov at 16-18.
Booking and Registration: When you pay for the class, you are automatically registered and booked under your name for the class you purchased. Full refunds are valid for 14 days (according to the Right of Cancellation Act) from the date of payment. In case of later cancellation, a cancellation fee of SEK 500 is deducted. However, you can exchange your course free of charge for another opportunity with the same price, subject to availability. The earlier you re-book, the greater the chance you will get the seat you desire. The last day to cancel with an adjusted refund or change to another class is 7 days before the start of the class you booked. In the unlikely event that we must cancel a class (see General Terms and Conditions or Covid 19), the full course fee will be refunded.
Welcome to an inspiring and joyful weekend course in throwing clay
Day 1 - Introduction and demonstration of centering and throwing. Then we throw all day. Big, small, low, and high. How far you go all depends on your experience level. Lunch break around 12-13. We provide coffee and tea.

Day 2 - We trim our products and attach ears, decorate, sign etc. Lunch break around 12-13 We provide coffee and tea.

Before glazing the pieces must be dried and bisque fired. Therefore, we will meet 3 weeks later to glaze them together. After that, it will take another 3-4 weeks (they are glaze fired now) before you can come and pick up your finished work. We will contact you by email when your work is ready for pick up.

The course fee includes:
- Course literature
- 2kg stoneware clay + slip/glazes/decorative material + firing (additional clay costs SEK 70/kg)
- Beautiful Drejverkstaden totebag
- Coffee/tea and some after-lunch chocolate
- Possibility to leave your indoor shoes during the weekend

Previous knowledge
The course is suitable for both complete beginners and those with previous experience. The teaching takes place in the form of individual supervision. You will have ample opportunity to develop your skillset if you attend additional courses or workshops.

Course structure and content
This course is offered in English.

You will learn the basics of throwing, trimming, decorative techniques, and glazing. This includes demonstrations on how to throw cups, bowls, jars, plates and candlesticks - high, low, large, and small. We will start at your skill level and help you develop further. 

The teaching mostly consists of hands-on work under the supervision of the course leader. Everyone has their own throwing wheel throughout the course. Maximum 12 participants.

Sustainable materials
On the courses, we work with two different stoneware clays. The advantage of stoneware is that the fired ware is very durable and that the glazes are lead-free. At Drejverkstaden, we are very concerned about the environment. Everything we do is undertaken according to a sustainability plan. The clays we buy come from Witgerts, which has a strong environmental policy. We strive to mix the glazes as environmentally friendly and sustainably as possible. We pre-rinse all our glazing tools.

Where
The studio is situated at Holländargatan 33, Stockholm.
dreja, drejning, kurs, helgkurs, lära, utvecklas, keramik, keramikkurs, drejkurs,