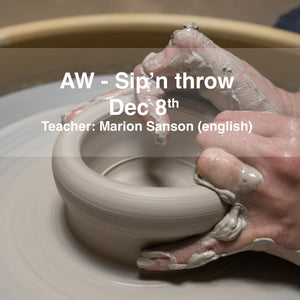 Teacher: Marion Sanson 
Language: English
Time: Friday  8th of Dec at 16.30-19.30
Bring: workingclothes and what you want to drink
 
Welcome to an inspiring and joyful AW with the clay in your hands

What a better way to end the week with a creative and joyful AW! Bring your friends and let's get creative by putting your hands in the clay!
During 3 hours you will be initiated to the basics of throwing. You will get an insight of what the pottery craft is and how the process works by showing you demonstrations on the wheel. You will then let your creativity drive your hands in the clay and experiment the throwing for the next hours.
Everyone has their own wheel throughout the class. Maximum 14 participants.
You will get to save 1 piece/person, which we later will trim for you. After the workshop, the pcs must dry properly and then be burnt. We later glaze your work after a joint decision of glaze color. After glazing, they will be glaze fired and you can then come and pick up your finished artworks after about 4-5 weeks. We will notify you by email when they are ready for pick up.

The course fee includes:
- clay and tools to work with
- to save 1 pcs which we trim, glaze and burn for you. 
- Beautiful Drejverkstaden shoppingbag
- Coffee or the 

To bring:
- what you want to drink
- workingclothes and shoes

Booking and Registration: When you pay for the class, you are automatically registered and booked under your name for the class you purchased. Full refunds are valid for 14 days (according to the Right of Cancellation Act) from the date of payment. However, this does not apply if the course you book starts within these 14 days.

Cancellation: In case of cancellation, a cancellation fee of SEK 300 is deducted. In case of cancellation 3-7 days before the start of the course, only 50% of the class fee is refunded. In case of cancellation less than 3 days before the start of the class, 25% of the class fee is refunded.

Sustainable materials and studio
At Drejverkstaden, we are very concerned about the environment. Everything we do is undertaken according to a sustainability plan. The stoneware clays we buy come from Witgerts, which has a strong environmental policy.  The advantage of stoneware is that the fired ware is very durable and that the glazes are lead-free. We strive to mix the glazes as environmentally friendly and sustainably as possible. We pre-rinse all our glazing tools. The electricity of burning the pcs comes strictly from renewable electricity. 

Where
The studio is situated at Holländargatan 33, Stockholm.
dreja, throwing clay, wheeler, clay, clayworkshop, stockholm,drejning, kurs, helgkurs, lära, utvecklas, keramik, keramikkurs, drejkurs,